Children of the Night is the seventh episode of Fan Specials side-series of the Gallows Hill (Series), the sequel to Seekers of the Truth. It is Part Two of the Seekers Trilogy.

Part One - Seekers of the Truth
Part Two - Children of the Night
Part Three - An Elegy of Emptiness
Summary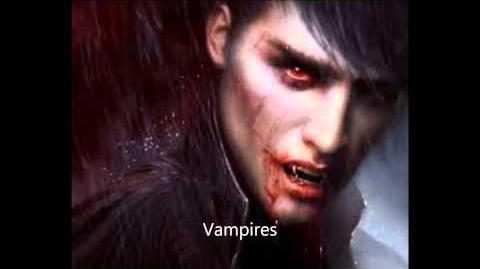 SUPERNATURALLY BOUND- Kevin and Chrissy's journey soon takes an unexpected turn and soon find themselves learning more about the world that they live in. As their search continues, they'll encounter things that they never knew existed.
Plot
Main Article: Children of the Night/Story

SPOILERS AHEAD
Picking up, from where seekers of truth left off, Chrissy and Kevin are in Madame Giselle's shop. Chrissy noticing Giselle's troubled expression asks her what's wrong and if she figured what the vision was about. Giselle composes herself and says she doesn't know what to make of the vision and asks them to give her a couple of days to figure something out, much to Kevin's displeasure. Once Kevin and Chrissy leave, Giselle calls her friend Janet and asks her to come into town.

When Chrissy drops Kevin off at home, he asks her if the vision could have been a hoax. Chrissy admits she doesn't know, but says Cassie looked different in this vision than all the others. When Kevin asks how, Chrissy says that in the other visions she had blonde hair like their sister Liz, but in this one she had red tint to her hair. Kevin than says his theories are that she is either a vampire or had found the fountain of youth. Chrissy stops at a red light and looks at Kevin like he lost his mind. Kevin tells her it could be true since people her and Giselle had psychic abilities. Chrissy retorts that are many people in the world that claim to be a psychic, but supernatural creatures like vampires are only myths. Kevin than starts to complain she sounds like Adam, but she reminds him that she does agree that certain people are gifted with psychic ablities, but there is no evidence for her to believe in supernatural creatures. Kevin than asks Chrissy, how Cassie hasn't aged once in 24 years, and still appears to be 19 years old instead of 43. Chrissy says she doesn't know. Soon Chrissy parks in front of Kevin's apartment. Kevin tells her to call him once Giselle figures something out, and than he gets out of the car to go inside.
Cast
Trivia
Story takes place where the Seekers of the Truth left off.
New Characters will be introduced.
Kevin and Chrissy will be introduced to the supernatural world.
Despite not appearing in this episode, Adam's voice can be heard in one of Chrissy's voicemails.
Their Journey will take them from Dallas, Texas to Shreveport, Louisiana.
This episode will lead directly into the Main Story Special - An Elegy of Emptiness.
Gallery
Community content is available under
CC-BY-SA
unless otherwise noted.